Over the last few weeks i've been reading more and more about web and app developers who are creating cool things on Windows environments. Feeling left out, i unearthed my six-year-old HP laptop and upgraded it to Windows 10 so i could check out this Windows Linux Subsystem i kept hearing about.
After installing and/or upgrading essential apps, i noticed the utter terribleness of the LastPass password manager app. It was slow, unresponsive at times, lived only in the taskbar, and differed severely in the UX/I department from its Mac OS and Android counterparts. It took several clicks to view passwords and usernames. A password manager ideally frees up time and mental energy, yet the Windows version was excruciating to use. I had been close to a point with LastPass where i was ready to look elsewhere — and this Windows version was the tipping point.
Several workers were using 1Password and Dashlane, so i had a couple of password managers to look into right away. These were the ideal attributes of any app i decided to use:
A LastPass migration option or at least a guide to do so
A useful free-tier plan
Mac, Windows, and Android apps
Secure password sharing.
Open source
Googling "lastpass windows 10 app sucks" resulted in a Reddit thread that introduced me to Bitwarden. According to some of the thread's comments, LastPass went downhill after being acquired by LogMeIn three years ago.
A LastPass migration option or at least a guide to do so
Bitwarden provided instructions to import from LastPass. I suggest you read through the full guide and follow the screenshots before starting the import. It took about three minutes to get my 3,700 passwords imported into Bitwarden.
A useful free-tier plan
LastPass offers a free tier with unlimited passwords and password sharing. LastPass paid plans are $24 (personal) and $48 (family) a year.
Dashlane and its free plan allows only 50 passwords before charging $60 per year. I didn't even download the app upon reading that.
Bitwarden has two plans: free, which does everything i need with no password limits; and a $10/year plan, which goes up only if you need additional encrypted file storage.
Mac, Windows, and Android apps.
There's no discernible difference in look or performance speed between the Mac and Windows apps. I love that they have different themes, particularly a dark mode theme. The big issue i had with LastPass Windows was the user interface lacking convenient access to user account information. As you can see in the screenshot below of Bitwarden, underneath website/app name is the username. I blurred them out, but you get the gist of it.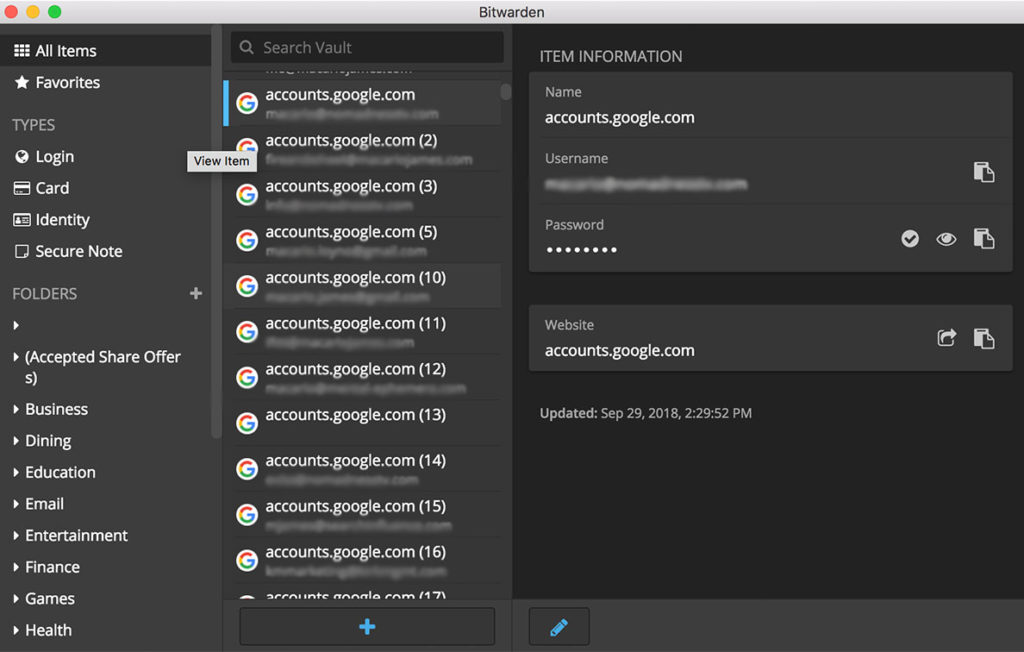 This is useful when you have several accounts for one service — like Google accounts pictured. With the LastPass Windows app, i had to click each individual "accounts.google.com" just to see what username it actually was. Yes, i could (and did for many) change the "accounts.google.com" to something more descriptive like "google – my username" but that's not the point.
Secure password sharing
Like LastPass, Bitwarden gives you the ability to share passwords to another person or group of people. Both apps include this in their free-tier plan. It's odd to me that both apps do not allow you to do any sharing via the apps, instead having to do so from there website. It's annoying.
Open Source
Bitwarden is open source. Open source software tends to make me feel a warm tingly feeling. Be sure to check out their GitHub.
Verdict
I've used Bitwarden for the past week with no issues on my phone — a Samsung Galaxy 8 Active — on my MacBook Pro — Mid 2015, High Sierra — and on my HP laptop running Windows 10.
I've noticed a smoother, faster experience when getting account passwords on my phone compared to LastPass. I'm still using LastPass, however, for work-related purposes. If i run into anything troubling, i'll be sure to update this post.
(Visited 205 times, 1 visits today)
Find Out When New Blog Posts are Published via pop-up when closing this browser tab
If you found this post useful ...