Off and on i've toyed with leaving Google Analytics.
The primary reason for this is their unruly tracking practices not respecting user privacy — at all. Google hoards and controls a ton of user data; user data they grab while users travel around the Internet. And, even when consumers grant consent for some things, it's a blurry line that Google toes. I don't need all the stuff Google tracks, like gender, about my visitors.
A secondary issue is complicated analytics dashboard. I want to know a few key things about my site traffic and user behavior:
Which pages are visited the most and how many times?
From what site, if any, did they come?
How long did they stay on my site? On each page?
What type of devices are visitors using to view my site?
What country are they from?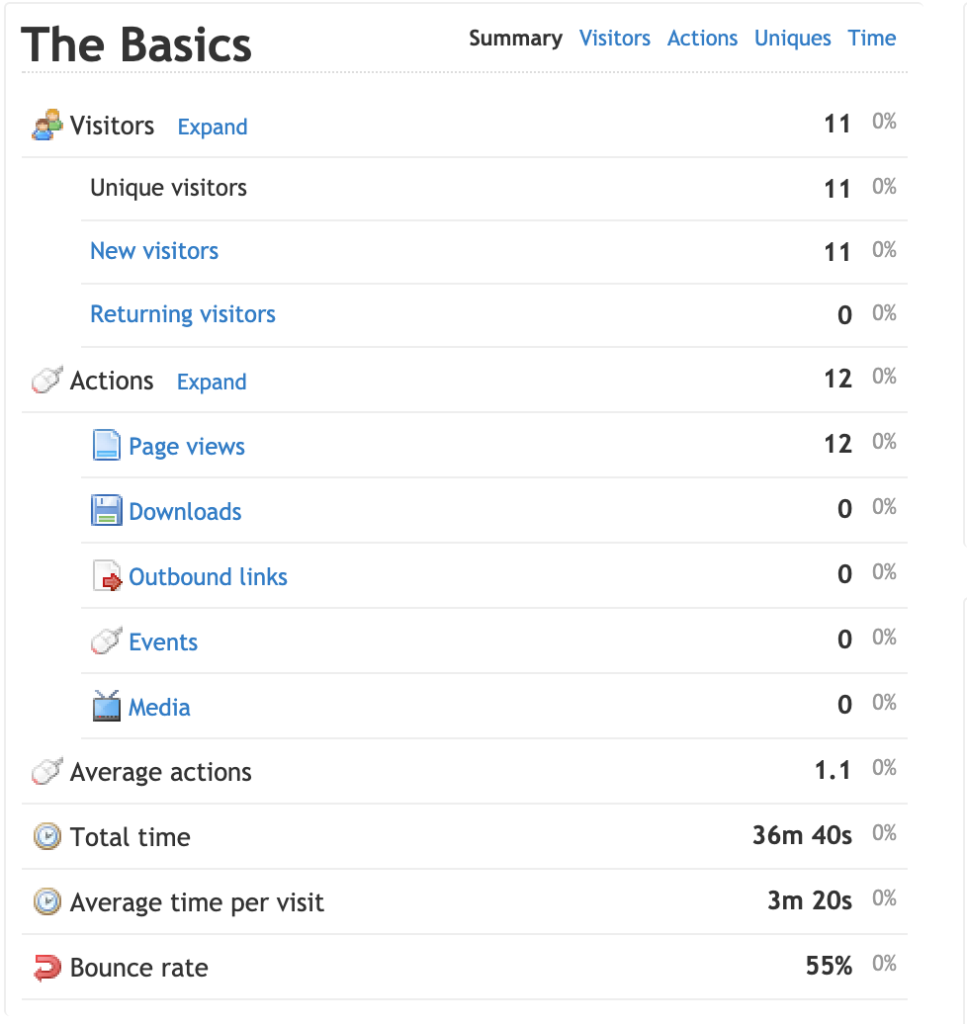 Google Analytics has evolved into a complicated behemoth, when i only need a simple, focused imp of a service. To that note, if the GA Dashboard for desktop was like the Android app off the bat, i'd be more prone to stick with it. And stick with it for use with my clients. It's difficult to get them to want to use anything but what's the known standard, mainly anything Google. Heck, i googled looking for Google Analytics alternatives.
Moving to the topic at hand, for the last few months, i've been cursory looking for Google Analytics alternatives, specifically ones that are privacy-focused and ideally open source and free. A few jumped out during my research, meeting most of the requirements.
Matamo, formerly known as Piwik
Newcomers, Simple Analytics and Fathom
Countly
Open Web Analytics
Clicky
Matamo
Too much configuration to get it up and running on my site — on my own server — that i didn't have time for. Not trying to take an hour plus just to have analytics of my visitors.
Simple Analytics
Paid-only service, per site.
With Simple Analytics, i was turned off that it's a paid-only service. Why the heck would i pay for website analytics when there are free tools available that also are privacy-focused?
I'm glad it does honor Do Not Track, however. So there's that going for it.
Fathom
Countly
Countly is another service with a free offering, if self-hosted.
Really more for applications, mobile and web.
I passed on looking into further since i am focused on website analytics rather than apps, at the moment.
Open Web Analytics
Free
Open source
Self-hosted
OWA has built-in WordPress support, but the WordPress install i came to find out was severely outdated. The main project was last updated June 2018, while the WordPress plugin several years ago. I was able to get it to install with some tweaks i talk about below, but then it wouldn't actually work.
In case you want to give it a try, the documentation could be clearer. Here's an example:
Move the entire 'owa' folder into the WordPress plugins folder which is located at /path/to/wordpress/wp-content/plugins
For clarity, the owa folder to move into your /plugins directory will be named something similar to Open-Web-Analytics-1.6.2 when you first download the .zip or clone the git repo, so you'll need to rename that folder to owa before moving it to the plugins folder.
After installation, i was unable to get any of the settings to save to the database and nothing was generating on my site. Project essentially dead in the water. Didn't spend time looking to get it installed and configured sans-WordPress plugin.
Clicky
Simple, fast-loading interface.
Been around since 2006, based in Oregon.
Not self-hosted.
Has a free tier for 3,000 visitors per day for one website.
First paid tier is only $9 for up to 10 sites monitored, 1,000,000 visits.
At sign-up, there's a 21-day Premium trial to test out all the features.
Can ignore visits by IP or Unique ID (a cookie).
Has a website uptime monitor.
Has a Twitter monitor (think Google Alerts)
Regarding privacy
We value the privacy of visitors to web sites monitored by our service. By default, we do not log any personal data, other than a tracking cookie containing a randomly generated Unique ID ("UID"); IP addresses are anonymized (the last number is replaced with a '0'), and global opt out cookies are honored. (Currently, "Do Not Track" headers are ignored, but that may change in the future).
As of today November 8, 2019, i'm still running both Google Analytics and Clicky to tackle all types of visitors and stats. It's difficult to get away from the behemoth that is Google Analytics. Heck, they just purchased Fitbit for $2 billion!
I haven't noticed any slowdown of my site since running both. However, i have had some performance issues because of enhancements via plugins to the site — mainly WooCommerce and its plugins — but that should be rectified soon once i leave my current web hosting provider. Another story for another time.
Anyway, i hope this has you looking at alternatives to Google Analytics.
Cheers and peace.
(Visited 164 times, 1 visits today)
Find Out When New Blog Posts are Published via pop-up when closing this browser tab
If you found this post useful ...